Exclusive Combinaison of 4 lifting and anti-ageing technologies
• ultrasound peeling
• capacitive radiofrequency
• electroporation (current module)
• photobiomodulation LED mask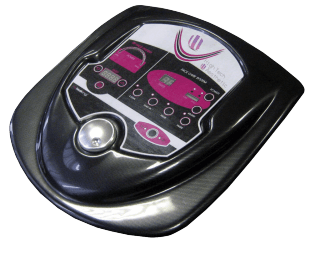 Supported technologies include: : ultrasound, modulated DC (electroporation) et radiofrequency, and LED mask to:
• deep cleansing
• enabling penetration of the active ingredients
• gentle massage
• revitalization
• intense biostimulation of cellular metabolic activity
• anti-ageing effect
• improved tone
With a combined action, this appliance fight the most widespread defects of the skin and brings a natural elasticity and well-being.
Peeling par ultrasons pour visage et corps
The exfoliating effect of the spatula removes all toxins and dead cells accumulated on the surface layer of the epidermis. Ultrasound, themselves, produce a thermal effect on stretch fabrics and so accelerate the metabolism of fibroblasts, mainly responsible for the production of new collagen. The action of ultrasound cleans deeply and smoothly through massage of the skin, they favor the vascular system and lymphatic drainage of the treated area.
Radiofrequency for the face
HTA Lift fight sagging tissues stimulating the deeper layers of the epidermis. The capacitive radiofrequency, endogenous development of heat, effectively revitalizes the subcutaneous collagen without damaging the surface layers. It fights against skin slackening reducing wrinkles with a lasting effect.
Electroporesis
The electroporesis allows active ingredients of cosmetic expressly studied for the rejuvenation of the skin to penetrate the skin barrier, thereby enhancing their effects. The issuance of a continuous current supplied by the electrodes in contact with the body, acts upon the electrical charge of the ions moving from one pole to the other. Accordingly, the active ingredients penetrate deeper and more easily through the skin.
This is a unique technology on the market of aesthetics. Biocompatible this method induces reversible small structural modifications at the stratum corneum so as to allow the absorption of the active principles contained in cosmetics.
LED Mask
Photobiomodulation is a cell stimulation technique that finds application in the treatment of photo-aging. The photobiomodulation is athermal, painless and it adapts to any phototype.
The benefits
– Increased turnover in epidermal cell level;
– Increased production of collagen by fibroblasts;
– Improved skin frame;
– Reduction of subtle wrinkles;
– Re compacting tissue;
– Adjuvant treatment of inesthétisme cellulite.
The result is a more toned fabric, elastic and with a young and healthy complexion in a few sessions: a smoother, oxygenated skin.